Mary Lou Maher will give an invited talk
Mary Lou Maher, CreativeIT Program Director at NSF (USA) and Professor at the University of Sydney (Australia) will be an invited speaker at ICCC-X.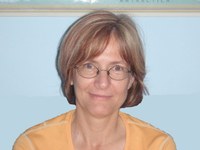 Mary Lou Maher
Mary Lou Maher is a Program Director in the Information and Intelligent Systems Division at NSF. She joined the Human Centered Computing Cluster in July 2006 and initiated a funding emphasis at NSF on research in creativity and computing called CreativeIT. She is the Professor of Design Computing at the University of Sydney. She received her PhD in 1984 at Carnegie Mellon University. She was an Associate Professor at Carnegie Mellon University before joining the University of Sydney in 1990. She has held joint appointments in the Faculty of Architecture and the School of Information Technologies at the University of Sydney. Her research includes the development of cognitive and computational models of design, and their evaluation through empirical studies of new technologies to support design and enhance creativity.
Document Actions